Safety Briefing
To make the day run as smoothly and safely as possible we have in place some important regulations. Following is a Safety Briefing that is delivered on the morning of each school event.
Helmets
Helmets are to be worn AT ALL TIMES whilst you are riding a motorcycle. Whether you are on track, in the car park or riding through pit lane, you must wear a helmet. If you are not wearing a helmet you must only push your bike.
Pit lane
Pit lane is ONE WAY (from pit entrance to pit exit). Under no circumstances are you to ride reverse direction up pit lane. If you wish to ride to the top of pit lane please ride behind the garages through the back of the compound. There are to be no cars in pit lane.

Entering the track
The only place you will be entering the circuit is at Turn 1 via Course Control. When you do so, please stay to the right of the track all the way until you see it is clear to enter onto the normal riding line. Bikes travelling down the straight could be moving 100km/hr faster than you. Once you are through Turn 2 you may continue on the normal riding line.

Exiting the track
When you are leaving the track please raise your left arm in the air to signal to other riders you are exiting. Stick to the edge of the track closest to pit entry and exit directly into pit lane.

Passing rules
Riders may pass anywhere on the circuit, on the outside or inside of another rider, provided a minimum clearance of 6-8ft (approximately 2 metres) is given AT ALL TIMES. When entering a turn, only pass on the inside of another rider if you can be certain you will leave the minimum clearance at all points in the turn. If you cannot do this please wait to pass elsewhere.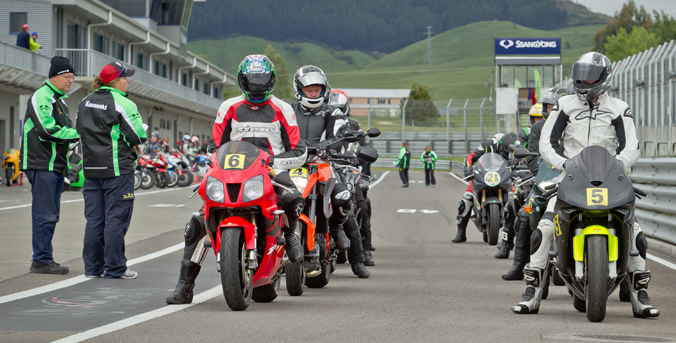 Flags
Flags are our only way of communicating with you when you are out on track – please look out for them and obey them. At California Superbike School we have manned flag points with 16 corners which means, whilst the entire track can still be observed, not every corner has a flag marshal. Therefore it is important you take the time in your first session to become familiar with the points which are manned.

Following is a full description of the flags used at California Superbike School.
Yellow flag
(a) Stationary. There is something on the circuit or off to the side of the circuit which you need to look out for. This could be in any of the upcoming corners. A stationary yellow flag may also warn you of a waved yellow flag ahead.
(b) Waved. A waved yellow flag indicates a more serious incident. There may be something in the next corner and potentially something on the circuit which you will need to avoid. SLOW DOWN, look for the incident, and ride safely around it.

NO PASSING is allowed under either the stationary or waved yellow flags. Once you reach a manned flag point which is not displaying a flag you can continue your session as normal and begin overtaking again.
Blue flag
Half rolled up and pointed at you. The blue flag is used to remind you of the drill you are supposed to be working on. Our staff have observed you either doing something you shouldn't be, or not doing something you should be. If the blue flag is pointed at you, remind yourself or your drill and its format (e.g. 4th gear, no brakes) and continue on. If you get a blue flag on multiple occasions during a session, please leave the track at the nearest exit and return to Course Control.

Chequered flag
The chequered flag displayed at a flag point indicates your session is over. Raise your left arm in the air to let others know you are leaving the track and continue into the pits.

Red flag
(a) Waved (at the last turn before pit entry only). The red flag is waved at the last turn before pit entry after the chequered flag as a reminder that your session has finished. Leave the circuit staying on the same side of the track as pit entry and continue into pit lane.

(b) Waved (at all manned flag points). A serious incident has occurred on the circuit and it has been deemed unsafe for your session to continue. The circuit needs to be cleared and you must exit into the pit entry at the first opportunity. DO NOT CONTINUE CIRCULATING UNDER A RED FLAG – this is extremely dangerous and a serious offence. Once you have exited the track you may re-form two lines at Course Control where you will be informed of the status of your session i.e. whether your session will be restarted or terminated.

(c) Half rolled up and pointed at you. The red flag will only be used in this manner at the start line (Course Control). If a red flag is pointed at you it indicates the marshals have observed an issue with your bike, gear or riding behaviour and you need to exit the track and return to Course Control immediately. Leave the circuit after Turn 6 and follow pit lane to Course Control. The Course Controller will speak with you, assist you in resolving the issue, and get you back on track as soon as possible. DO NOT CONTINUE CIRCULATING IF YOU HAVE RECEIVED A RED FLAG – this may be extremely dangerous and is a serious offence. If, after seeing the flag pointed at you, you become aware of a serious mechanical issue (such as an oil leak) STOP CIRCULATING IMMEDIATELY and park your bike against a tyre wall well clear of the circuit. Recovery staff will collect you as soon as it's safe to do so.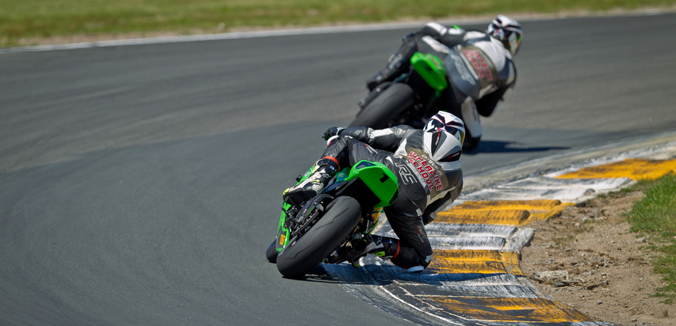 Incidents on track
If you come across a fallen rider please DO NOT STOP TO HELP. We have trained staff on site to handle these exact situations. Please look out for flags signals and obey them but do not stop.

Should you be the unfortunate rider who has fallen, if you feel you can do so please move yourself to a safe place. This would preferably be on or beside the nearest tyre wall. Also if you feel capable you may move your bike to the tyre wall; if you cannot move your bike please leave it and get yourself to safety. We will send a recovery vehicle to retrieve your bike once the track has cleared. PLEASE LEAVE YOUR HELMET ON unless you are safely out of harm's way, such as on top of a tyre wall.

Stunting
There are to be NO burnouts, stoppies or wheelies at California Superbike School.
Fuel
The maximum quantity of fuel permitted is 20L per rider. This is in addition to fuel already in the motorcycle. Bikes are NOT to be refuelled in pit lane or within 5 metres of an ignition source i.e. tyre warmers must be switched off and there is to be no smoking whilst refuelling.
These rules are put in place and enforced for obvious safety reasons. Breaching any of these rules may result in expulsion from the track, and depending on the severity of breach, expulsion from any future events.