Phillip Island Circuit
About the Circuit
To motorcycle riders around the globe, Phillip Island needs no introduction. For many it is the Mecca of Motorcycle GP racing, or at the very least one of the most incredible motorcycle racing circuits ever built. A worldwide favourite with riders in every world championship, Phillip Island provides some of the most alluring visions ever captured by TV cameras at a motor racing event. At 4.41km in length, the circuit is a challenging mixture of mid and high speed turns, with just a couple of slower ones thrown in to keep you on your toes.
Note for Phillip Island Schools: Due to the format of the California Superbike School program at Phillip Island there is no guaranteed access to the pit garage facility and as a result there is no access to mains power for tyre warmers or any other devices requiring power.
Get to know the circuit - Phillip Island track map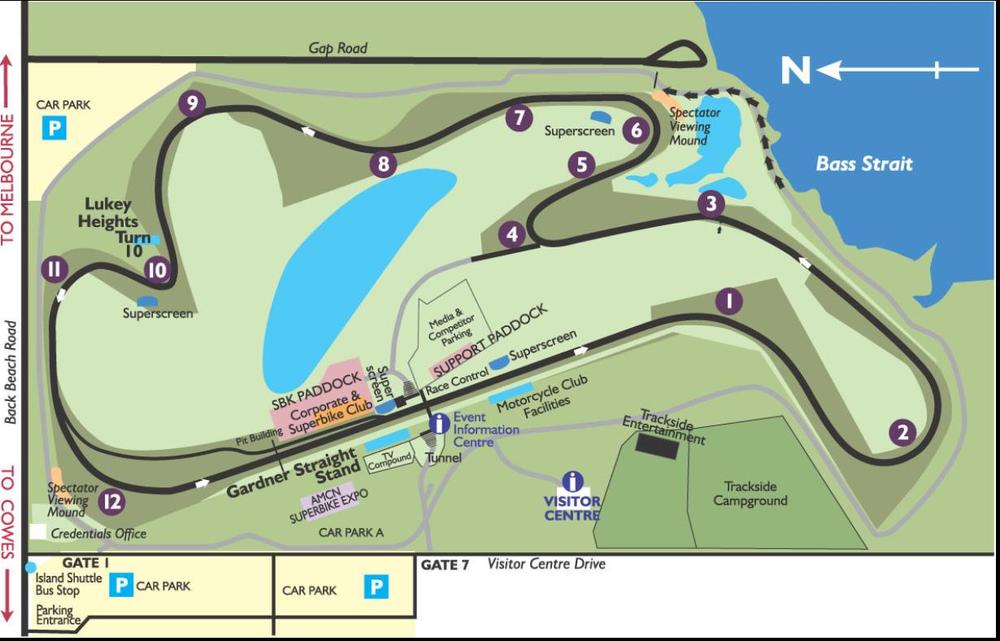 For ride days at Phillip Island visit www.phillipislandridedays.com.au

Location
Phillip Island is located approximately 140km SSE of the Melbourne CBD and approximately 160 from Tullamarine Airport. The Grand Prix Circuit is on Back Beach Road, and entrance to the circuit is through Gate 7 (via Visitor Centre Drive).
Click to enlarge