Student Requirements
You don't need to be an aspiring racer to be a Superbike School student. In fact, you don't even need to have ridden on the track before! Don't let the name fool you... Superbike School is for anyone who meets a few basic criteria.
Licence
The minimum licence requirement to participate in Superbike School is as follows:
Learner's Permit (issued by the road transport authority), or

Competition Licence (issued by Motorcycling New Zealand)

Participants need to hold the appropriate licence for the bike they will be riding.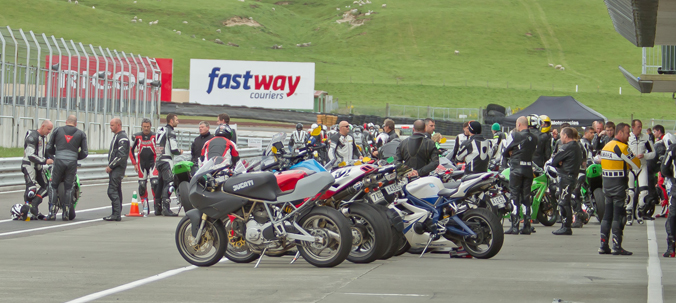 Motorcycle
To participate in a Superbike School your bike will need to pass some basic scrutineering checks. See the list below for items which will be scrutineered on the day of your event.
All treaded tyres must have a minimum of 2mm tread depth above the wear indicator at the beginning of the day – this includes centre as well as sides. If subsequent inspection during the day shows the tyre to be on or below the tread depth indicator access to the track may be denied;

Slick tyres can be used on dry a track only. Access may be denied if the track is deemed unsuitable for slick tyres;
Front and rear brake pads must be deemed to have suitable material to complete a day at the racetrack;
Front and rear brake disc rotors must be above minimum thickness as per manufacturer specifications (this measurement is stamped on the rotor carrier);
Front and rear brake lines must be secured correctly and must not leak or weep fluid;
Front & rear brakes must operate correctly upon testing;
Fork seals must not show any signs of leaking or weeping fluid;
There must be no evidence of oil leaks or weeps of any kind;
Fairings must be secured correctly (no race tape!);
Any damage to fairings must not have sharp or jagged edges, or in any way be deemed a potential threat to any rider;
Foot pegs and mounting brackets must be secured and aligned correctly;
Exhausts must be secured by all mounting points;
Levers or pedals that are bent and deemed difficult to operate must be repaired or replaced;
Throttles must snap back to the off position when released;
There must be no evidence of fuel leaks of any kind;
Handlebars must be secured and show no evidence of being able to move or be bent from the original shape intended by the manufacturer;
Gear sack racks must be removed;
It is recommended participants drain glycol coolant from their cooling system and replace it with water and a corrosion inhibitor.
Please note
Due to the format of the California Superbike School program there is no guaranteed access to the pit garage facility and as a result there is no access to mains power for tyre warmers or any other devices requiring power

Lap timing and video recording is strictly prohibited at Superbike School: such devices must be removed from motorcycles prior to accessing to the circuit. Riders found using lap timing or filming devices risk being removed from the event and potentially banned from future events.



If you have any questions regarding your motorcycle's suitability for Superbike School, please contact us via email at ash@shorebuild.co.nz.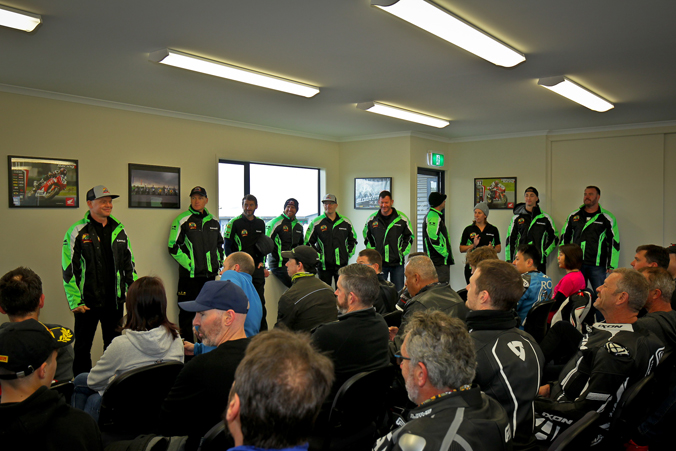 Riding gear
To participate in Superbike School you'll need some essential riding gear. Listed below are the minimum requirements. Alternatively, if you would like to hire riding gear for the day please write your sizes down and send them to ash@shorebuild.co.nz.

• Leather jacket and leather pants which zip securely together (no textile clothing permitted);
• Leather motorcycle boots (boots must overlap pants or pants must overlap boots, so as no skin or other clothing can be seen);
• Leather motorcycle gloves – gloves with carbon fibre or Kevlar knuckling and/or palms are strongly recommended (gloves must overlap jacket sleeves i.e. no wrist length gloves);
• Full-face helmet minimum of New Zealand, Australian, DOT or Snell approved, visor must be correctly secured;
• Back protectors are not mandatory but strongly recommended.
If you have any questions regarding your riding gear's suitability for Superbike School, please contact us on +64 21 979 367 or email ash@shorebuild.co.nz.